Fishing Excitement!
Inverness Falls Resort is located on the north end of Brereton Lake. Our lake is approximately 3 by 5 miles long and has an average depth of 15 to 18 feet. The lake, with a bottom of rock, mud and some weed beds, provides a good environment for Walleye, Northern Pike and Perch. Crappie have recently been introduced into our lake. The Manitoba Fisheries Master Angler Crappies list includes Brereton Lake.
We offer a 16ft boat with motors for fishing out on the lake. Click on Equipment Rentals rates.
The main food supply in our lake is made up of small chub minnows and yellow perch. During mid to late May and during the month of June, Brereton sees a great increase in Walleye activity while the majority of larger Northern Pike surface in early fall. The largest Northern Pike caught in Brereton Lake by a guest of Inverness Falls Resort was 24 lbs. The record holder Brereton Lake Northern Pike is 27 lbs.
The row boat anchored about 300 yards out may prove successful early mornings and evenings. The paddle boat is perfect for trolling once you get your foot-work just right.
The Rennie River leaves Brereton Lake and meanders through the resort on its way. Just below the falls the river widens slightly to allow canoeing opportunities. We have canoes down there for guests to borrow. We have been encouraging Catch and Release fishing in the stream for years which has resulted in a good resource.

Off-shore fishing
Guests are invited to fish off the end of either of the two docks at the Office on the Lake.
"Very peaceful early morning before anyone else is up"
Spots along the shore just below the falls. Perfect for some quiet moments.
"Some good action just below the falls in the faster moving water"
On arrival drop down to the Office and we will show you on a map of Brereton Lake and discuss what's been happening and where the most action is.
Complimentary Equipment for our Registered Guests:
Canoes on the River (just below the falls) and on the Lake
Peddle Boats
Row Boat
Mountain Bikes
Fishing Rods and Reels
Tennis Rackets – courts a bike ride down the Trans Canada Trail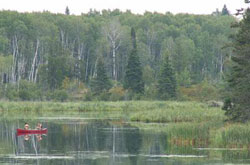 We require you to sign the equipment out before you take it. The sign out book is in the Sun Room at the dock. You will be signing accepting responsibility for yourself and for the equipment. The equipment must be signed out by someone over the age of 18.
Duration of use: we would ask you to consider a couple of hours at a time; to allow circulation of the equipment among all the guests.
You must possess a valid Fishing license if you are going to fish in or with our equipment.
You are responsible to take a life preserver per person and a safety kit in all water vehicles.