At this time we can not accept reservation for War Eagle Lake Wilderness Lodge; due to present conditions. Please check back for updates or email info@invernessfallsresort.com
UNPLUG TO RECHARGE!
War Eagle Wilderness Retreat offers a chance to leave your busy lives behind and…just "be" for a few days.
Located approximately 10 miles west of Brereton Lake, War Eagle abounds with Wildlife and Waterfowl. Our 1400 sq ft Hand Crafted Log Cabin is the only dwelling on the lake. You will have the whole lake to yourselves.
War Eagle Lake Wilderness Retreat offers "traditional conveniences to ensure a naturally comfortable stay"
Spend your days swimming, hike to the old gold mine, canoeing the lake, fishing from shore or head out in the boat.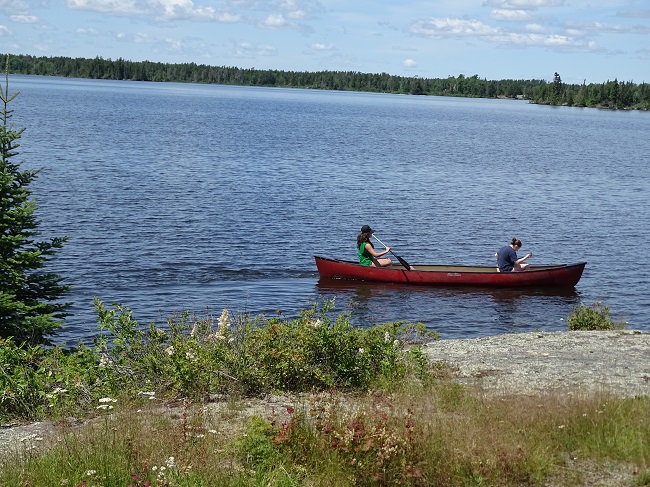 And in the evening relax by the fire on the point, while watching the sun set across the lake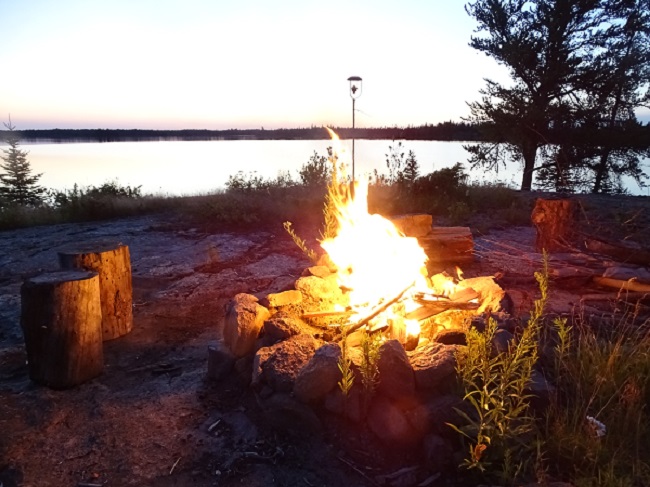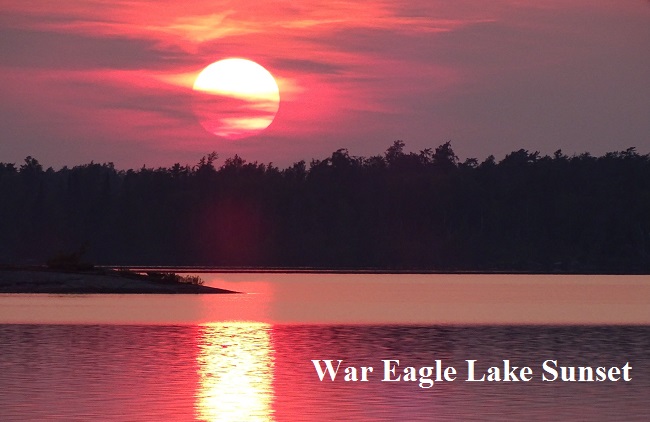 Getting there is half the fun!
Head back-country with Stu, your guide, for an hour and half ride in the Polaris Ranger to the shore of War Eagle Lake. Then across the lake to our Log Cabin. Stu will get you organized and then leave you to ……..enjoy the lake to yourselves!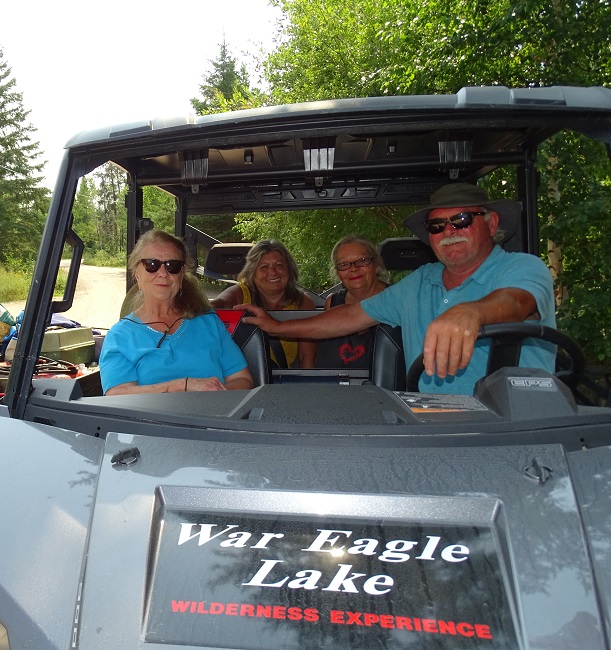 The ATV ride-in takes about 11/2 hour. The first 1/3 of the trail is part of the Trans-Canada Great Trail shared with bikers and hikers.
In a half hour we reach our first rest spot; the new bridge over the Rennie River on the Great Trail.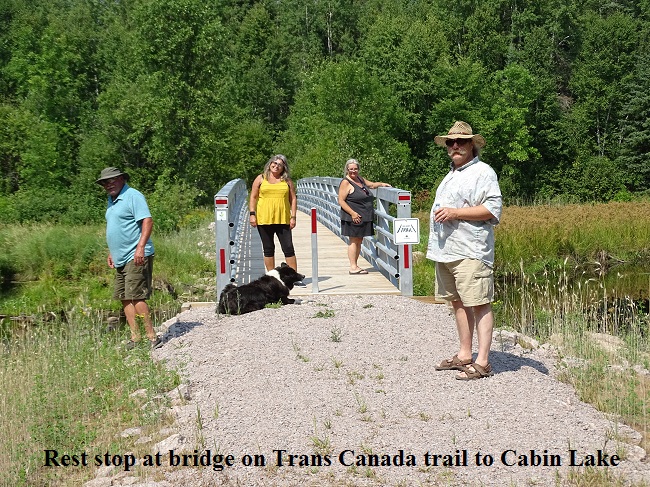 The next 1/3 of the trail travels along an old logging trail through some beautiful new growth forest.
We will often see wildlife on the trail.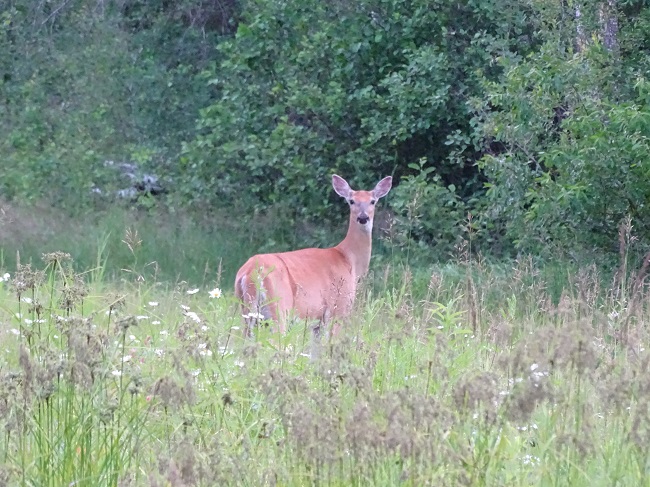 The last 1/3 offers some excitement as Stu take you through some swamp and over some roc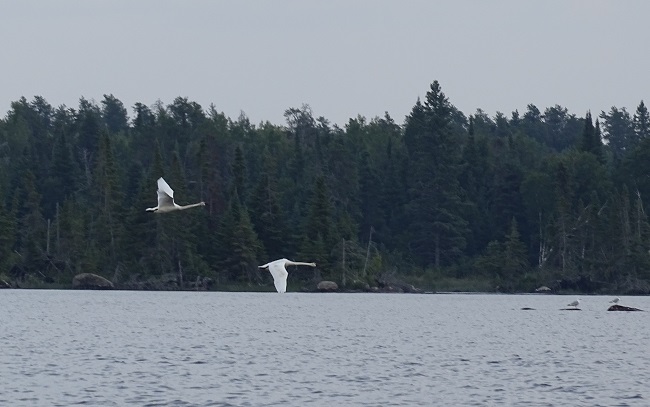 Getting there, truly is, half the fun!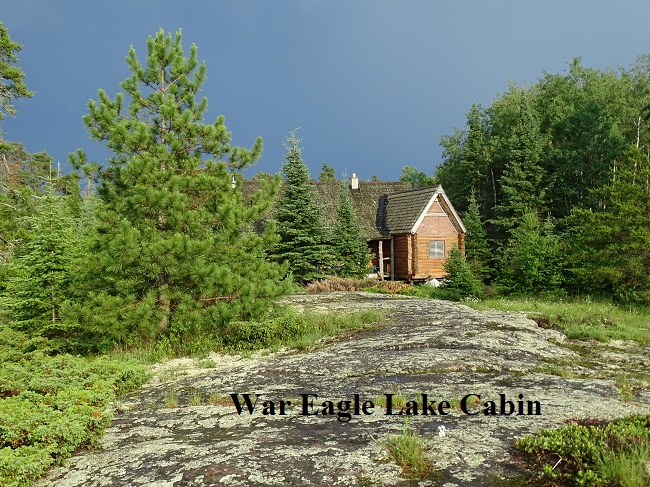 Our hand crafted log cabin is built on the east side of the lake with a spectacular view of the sunset from the front porch.
There is an open ceiling over the livingroom and kitchen.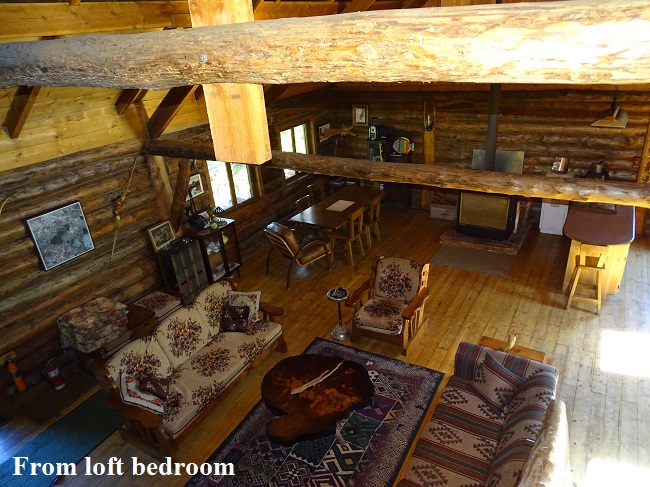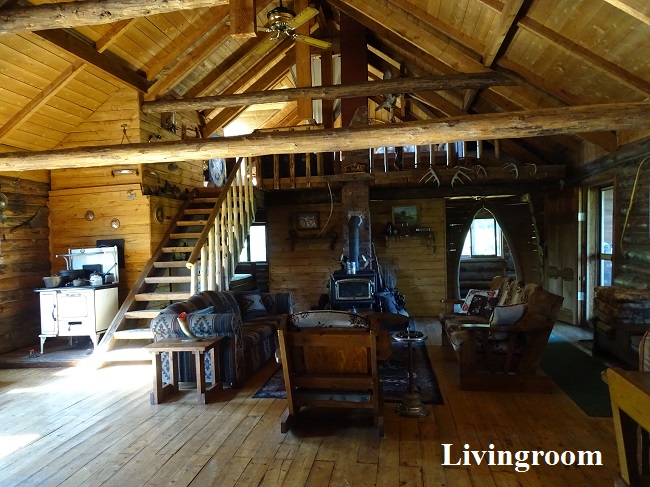 A loft bedroom and two on the main floor offer queen size beds; bedding provided.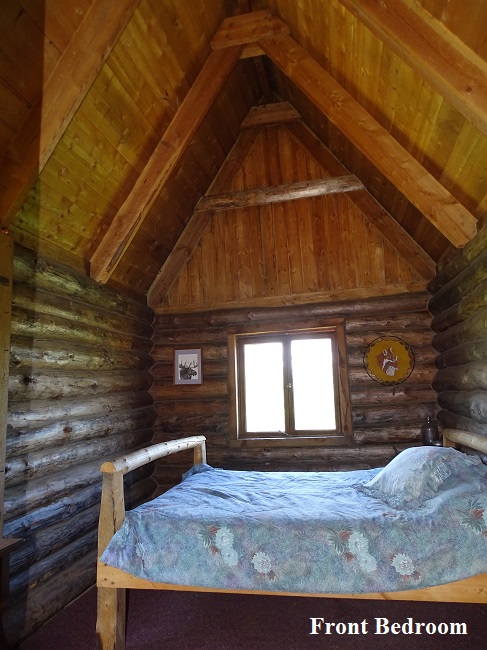 Kitchen has propane fridge and counter top cooking elements; plus propane BBQ out on deck. Dishes, utensils and propane provided. (You bring your food, spices, towels and personal needs) .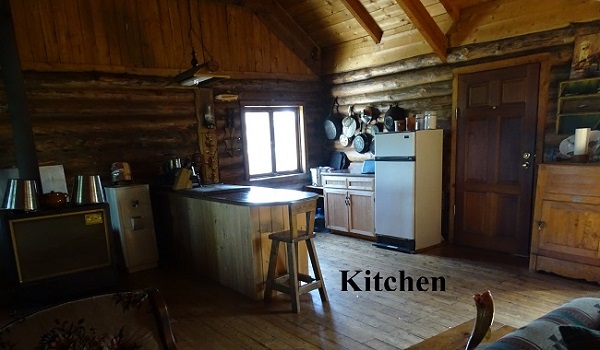 Comfortable surroundings foster good times together. (We have some board games for you to enjoy)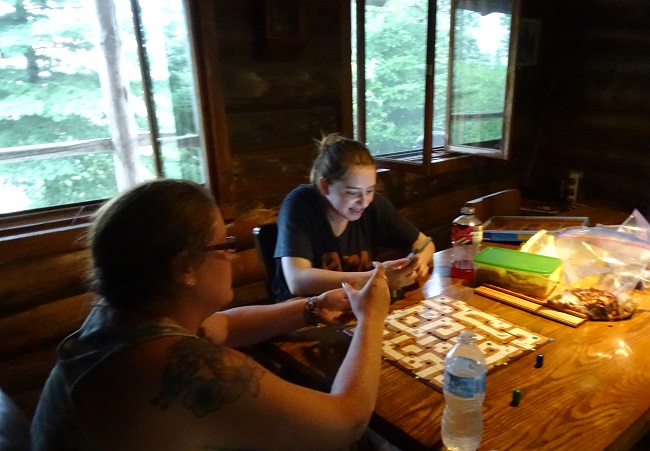 The Cabin has a bathroom with bear paw tub and humus toilet.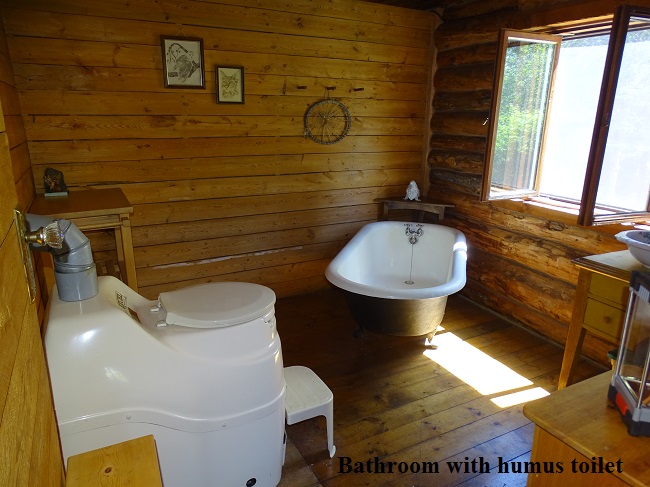 Also an outhouse.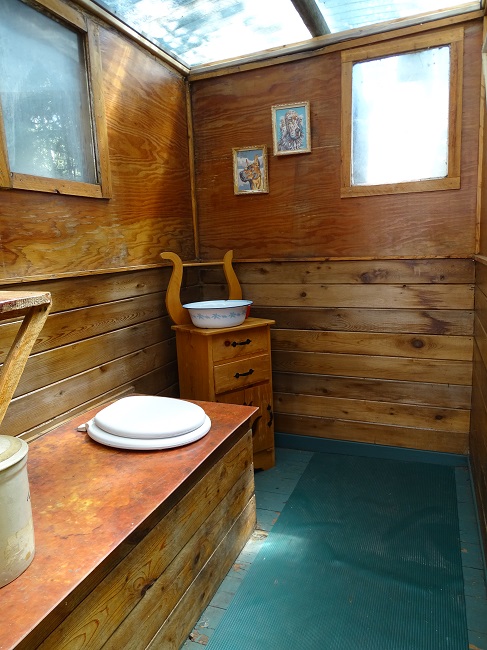 (… the joke is "Running water depending on how quickly you bring a pail of water up from the lake" LOL)
Just before bed, head down to the shore to fill up the water pail for morning. One last chance to check out the sunset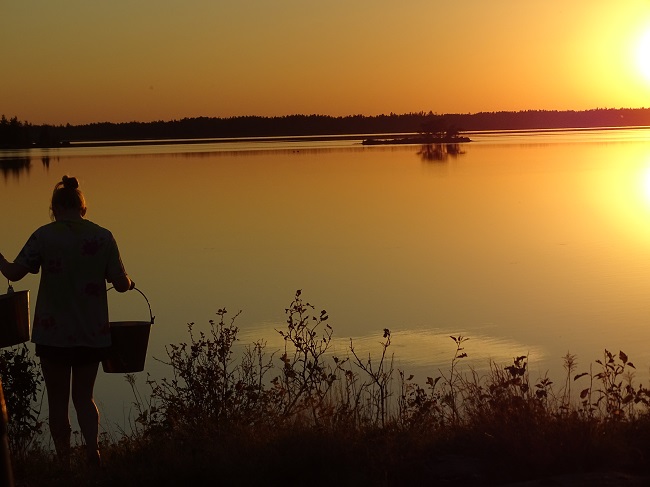 FISHING:
War Eagle Lake is 4 miles long by 3 miles wide. Rock/mud bottom with lots of structure to keep the Bass and Northern Pike happy. The lake offers Small Mouth Bass, Northern Pike and Perch ( Master Angler Bass coming in. ) We have a 14ft boat with 6hp 4-stroke motor, canoes, peddle boat and a row boat for you to use.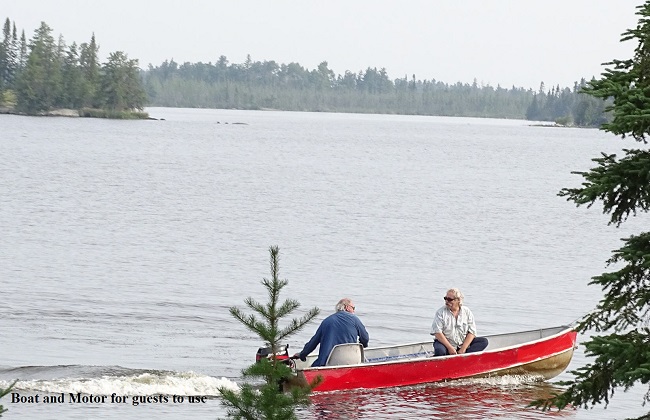 Out on the lake or off the dock; going for a master angler or just for a few minutes with your best bud; fishing is a great way to unwind!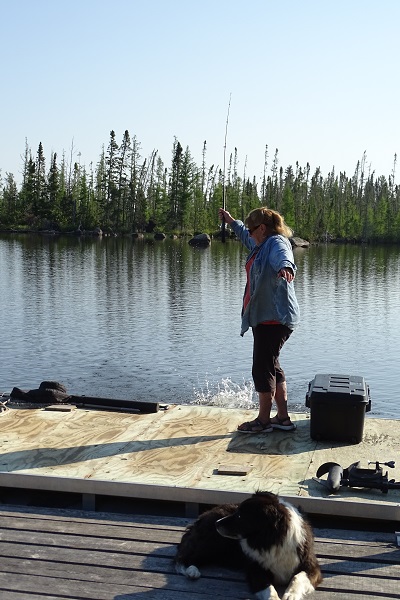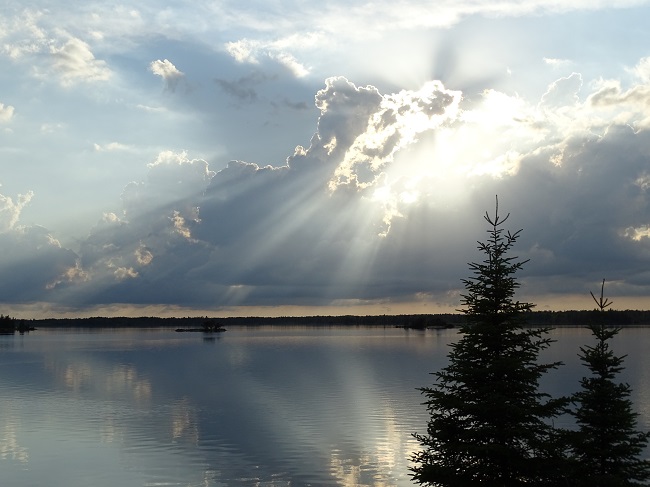 We offer 2-4 Persons packages including:
Transportation by ATV to War Eagle from Inverness Falls Resort
3 Bedroom Log Cabin (only cabin on the lake)
14ft Boat and Motor- first tank of gas included in rate (Must have Boater's Card),
Canoe, Peddle Boat, Row Boat
WEEKEND PACKAGES: depart Inverness on Thursday/ return to Inverness Monday 5 Days /4 Nights
MID-WEEK PACKAGES: depart Inverness on Monday / return to Inverness Thursday 4 Days / 3 Nights
We have not been able to offer War Eagle through the Pandemic. We are hoping to be open for Summer 2022 Season.
We will have rate posted by late fall