Our guests enjoy the use of complimentary equipment including Mountain Bikes, Paddle Boat, Row Boat, Kayak; and Canoes both on the river and the lake.
We have Canoes, Kayaks, Peddle Boats and a Row boat to borrow on the Lake to enhance the family vacation.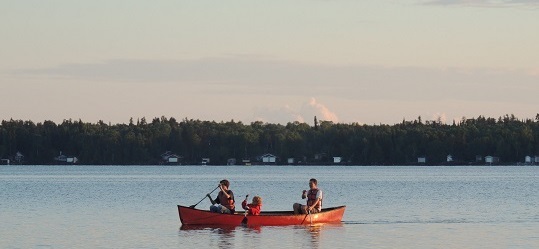 Brereton Lake is approximately 3 miles by 5 miles with an average depth of 15 to 18 feet, supports a good population of Walleye, Northern Pike, Perch and Crappies; for GREAT Spring & Fall Fishing. Off shore fishing can be very successful; or borrow equipment and head out a couple of hundred yards, into some deeper water.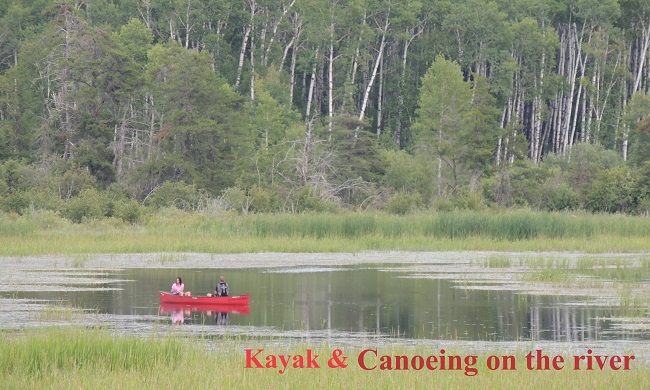 The stream that meanders through the Resort, widens just below the little falls forming a navigable waterway; offering secluded Canoeing, Fishing & Wildlife viewing opportunities; and a number of quiet spots where Couples can steal a few minutes to enjoy the beauty of the area. We have a canoe and kayak on the river just below the little falls, to borrow.
Living down stream we have fox, beaver, otter, and deer. As well, a number of species of waterfowl such as the magnificent Blue Heron nest in the area.
Mountain Bikes: we have a number of bikes for you to borrow while staying with us. Both block roads make lovely bike rides. The Trans-Canada trail that goes right by us is bikable as well as hikable.
Tennis There is a Tennis court across from the camp ground at the other end of our lake. We have rackets to borrow.
BEACH right in front of the resort.
Spring Excitement
Be it shore fishing on the river or off the dock on the lake; down river by canoe or out on Brereton with a boat and motor . . . Spring Fishing is excitement!
Summer Fun
Lasy days relaxing in the sun. Swimming, hiking, biking, tennis.. anything to be out in the Great Outdoors
Fall Fantasy
…lazy afternoons lounging in the sun …skies alive with fall migration …waters rippling with playful fish …forest trails painted in "Autumn Delight" and full of Wildlife Viewing opportunities…
Evenings cuddling in front of a cozy wood burning fire.