Everyone is waiting patiently for the big day. These beautiful Grosbeaks are anticipating Christmas morning treats.
Tonight we are heading into the Rennie Christmas Concert. Since 1979, when we bought the resort, our family have been part of our town Concert. Its a highlight of the year. The children all participating and I so enjoy being part of the Christmas Choir.
Every few months we bundle up the food donation that our guest contribute and take them into one of the food banks. The last batch of the year we always add to our donation for Christmas hamper, collected at the Christmas Concert. These are distibuted with in our area.
We have a full box of goodies to contribute tonight.
Thank you to all who have participating in our Food Bank donations program.
We got great snow this week and everything is looking very "Winter Wonderland'ish".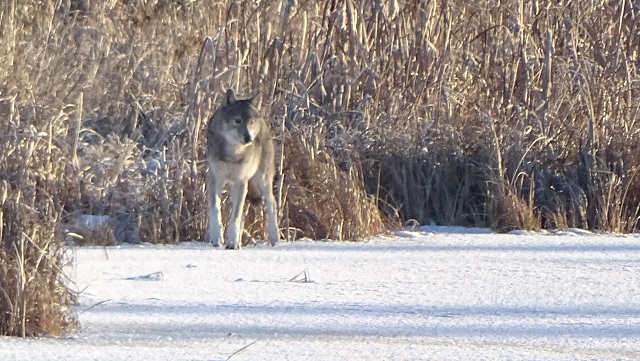 Lots of wildlife spotting. This wolf was crossing the river the other morning As the Holiday Season draws closer we reflect on the year that is coming to a close.
Thank you, to all of our guests, for making 2015 an enjoyable and rewarding year.
We look forward to seeing you again in 2016!
To all a Happy and Safe Holiday Season
from Stu, Judy, Krista & Trinity