It's another amazing week in the Whiteshell. Everythis is so lush,
Krista has been busy with guests coming and going and Stu is almost finished his renovations on Suites #4 and #5. The reward for jobs well done by both, is some fishing time next week to celebrate Stu's birthday. The fishing continues to be very active (and very tasty).
We still have openings June, July and August and we have set up some shorter packages to fill in the vacancies. Please check out our rate page for options to consider.
It's been an exciting week, Nature wise.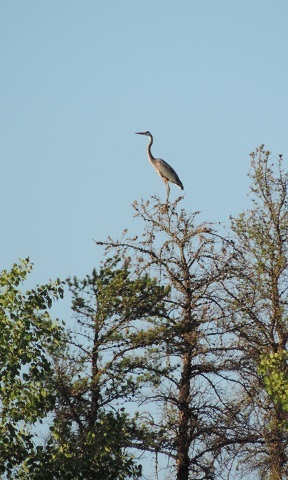 Driving along 307 one evening, I saw a Blue Heron in the ditch right by the road. I stopped the car and jumped out; but by the time I had the camera in position, the bird was flying. It circled the pond and flew back deeper in the forest. I turned and headed back to the car; and then looking over my shoulder I saw it had landed right on top of a tree. The Heron looked so strange perched in it's "I am a statue" stance, on the very top branch.
The second nature story does not involve the camera. It was one of those "where is my camera" moments. I ran home for the office to pick up a sweater Friday afternoon and did not take my camera. As I came to our house I looked up over the river and right in front of me. So big! Was a Bald Eagle. He came in and circled right in front of me and then on the second circle it hovered; hovered with it talons out and ready. It dove or really dropped but then in seconds, it was up and circling again. It circled and dove three times before flying off. I had thought it might have been after a fish but when I got back to the office and told Stu what I had seen; he told me he had just seen the Wood Duck chicks drop out of the house we have set up on the river just below where the Eagle had been hovering.
I respect the ways of Nature but I am glad that in that particular case the little ducklings were save. We saw the Wood Duck family later that night and counted 8 little heads.
Just an aside: Wood Ducks like their nests quite high up and when the babies are still tiny, they jump out of the nest down to the water and start swimming .. When you staying with us next and are canoeing on the river, check out how high the Wood Duck houses are off the water. Quite something- that the little ducklings can drop that far without hurting themselves.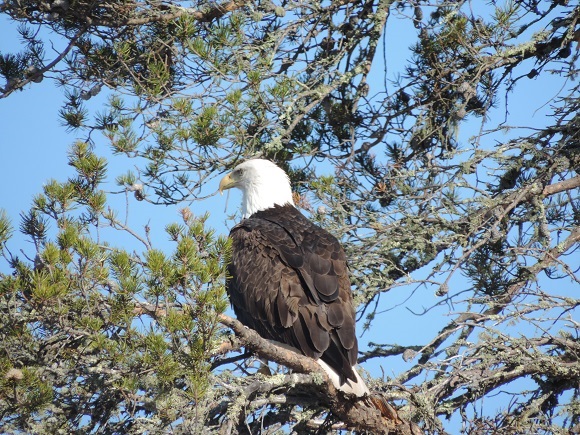 This is a picture I took of the eagle one other day it was fishing on the river.
( Kelly,stying in Chalet #9 this last weekend captured the Tundra Swans on the river)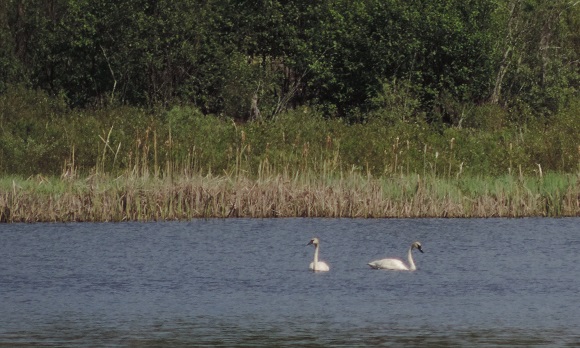 Wishing all a Great Week from Inverness Falls Resort